SCA Theatre Presents... TBA
DATES
February 12-15, 2019
Evening Shows: 7pm Tuesday - Friday; Front of House opens 1 hour before showtime
February 12-15, 2019
Matinee Shows: 11:30 Tuesday - Friday; Front of House opens 1 hour before showtime
 LOCATION:
Strathcona Christian Academy Auditorium/Sherwood Park Alliance Church
1011 Cloverbar Road
Sherwood Park, AB T8A 4V7
TICKETS: 
Purchase your tickets 
Show ticket price range: $10 - $17
Promo: 
All tickets must be purchased in advanced. Rush seating may be available at the door.
SCHOOL or LARGE GROUP BOOKINGS: Phone SCS school office 780 464 7127 and talk to Lorraine McTurk to reserve your group booking.
Email questions: info@scatheatre.com
Follow us on Instagram @scastheatre and on facebook
SCA Theatre presents - Fairways meet Broadway
It may be a little chilly out but we all know the end of Sept is always beautiful and we have the perfect "September send off". SCA Theatre cast and parents are putting on our first Golf Tournament Fundraiser - Fairways meet Broadway! It is an afternoon of pure fun and entertainment, with Golf (of course), games, music, prizes, food and special guest appearances from past and present shows. Join us in support of the Arts and have a blast doing it! For more info or to register, email us at info@scatheatre.com.
Silent Auction
$75 per golfer
$250 for 4 with cart
SCA Theatre Presents - The Greatest Shows Gala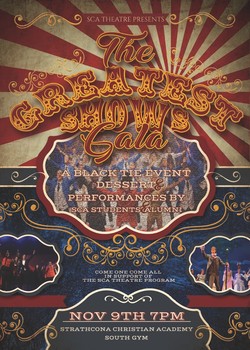 A Black Tie event you do not want to miss!  SCA Theatre Students, Past and Present, are joining together to bring you a night you will not forget! Performances from past shows, new musical numbers with stunning choreography and so much more! Our students have been working hard and can't wait to hit the stage "again" and for some, the first time! For more info please email info@scatheatre.com 
Nov 9th, 7pm
$15 ticket 
$25 for 2 tickets