Athletics News
Varsity Basketball Team Updates
Posted on

January 13th, 2016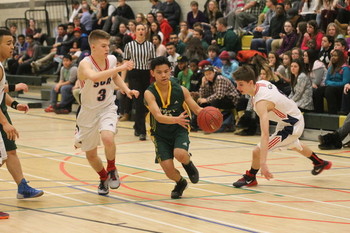 Our Varsity Boys Basketball team entered the new year by playing at the annual Bev Facey Falcons invitational tournament on January 8-9. The boys won their first game handily over the rival Strathcona High Lords, but ended up losing a tough battle against Foothills High School from Calgary in the semi-finals. The boys found some redemption with a convincing win over Lloydminster High in the bronze medal game. The boys began their league play once again on Monday, January 11 by welcoming one of the top high school boys teams in Western Canada, the Harry Ainlay Titans, to our Eagles Gym. The boys fought hard, but ended up on the losing side by a score of 101-74. Our Varsity Boys currently sit in 7th place in the Division 1 standings with a record of 3-4, and an overall record of 15-4.
The Varsity Girls Basketball team entered 2016 on a high note. They were victorious in their first league game back, bouncing the visiting McNally Tigers by a score of 50-26 on Tuesday, January 5. However, the Lady Eagles didn't fair as good against their cross-town rivals as the Salisbury Sabres defeated them by a score of 51-39 on Tuesday, January 12. Our Varsity Girls currently sit in 3rd place in the Division 2 standings with a record of 3-2, and an overall record of 7-4.
Both Varsity teams are now on a two week exam break. Practices will still be occurring, but the next league games begin again in February. Our Varsity Boys are back in action when they host Bellrose on Monday, February 1. Our Varsity Girls hit the hardwood with a road game in Beaumont on Tuesday, February 2.