TAVO Blog
Dressember
Posted on

December 7th, 2017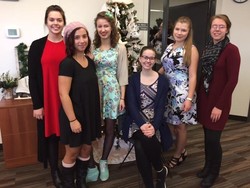 December is DRESSEMBER!
What does that mean?
Dressember uses fashion to advocate for women who've been exploited for their femininity. It is a way for women and men to stand up for those who have been exploited into sex trafficking and to raise money to help fight against human trafficking. Every day of December the participants wear a dress - or a tie. YES! Every. Single. Day! Then, family, friends and people like you donate to their cause. 
This year we have 7 participants at our school, including one boy! 
If you would like to donate to this cause, go to the TAVO fundraising page at: 
https://support.dressemberfoundation.org/team/tavo
Thank you for supporting us!