TAVO Blog
Encounter's Guest Speaker
Posted on

December 12th, 2017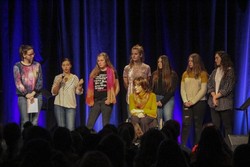 On November 23 rd , we were very fortunate to have Carrilynn Lund visit our
school as a guest speaker during our chapel. She told us the story of her
life: the mistreatment at the hands of the nuns in residential schools--as
well as the outright cruel abuse that occurred at these schools--her
struggles with poverty, mental health problems, paralysis, and cancer, but
also her passion for sports and music. She also spoke of her involvement with politics,
such as helping write past Prime Minister Steven Harper's apology to the
mistreatment of our natives in the residential schools. Throughout her life,
she said that she turned to God during her troubles, relying totally on him to
help her through her biggest challenges. Whether it was when she was
trying out for the basketball team or fighting cancer, she always put her
faith in God.