TAVO Blog
Officially a Fair Trade School!
Posted on

September 25th, 2017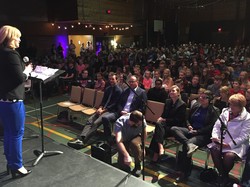 Last Thursday, we officially announced our Fair Trade School designation! We are the 18th Fair Trade School in Canada, the 4th Fair Trade School in Alberta, and the first in the Elk Island Public School District. In fact, we are the first in the entire Edmonton area. Students and staff worked hard to meet the requirements and this past summer, we received our designation. 
The people behind it all? A student group called TAVO, which stands for Teens Against Violent Oppression. TAVO focuses on social justice issues, particularly human trafficking. In the past, TAVO has raised money for an anti-human trafficking organization called International Justice Mission. IJM is helping people get out of slavery, particularly in poorer countries, but also in Canada.
After being asked time and time again by students, "How do I help to stop slavery in the world?" we realized that education and practice regarding our daily buying habits should be our focus. Speaking in school gatherings, selling fair trade goodies, putting up advertisements and great effort from the school's Social Studies teachers teaching a fair trade component in their class, our school was able to meet its goals by the end of June 2017.
Thank you to Mayor Carr, MLA Estefania Cortes-Vargas and EIPS Associate Superintendent Sandra Stoddard for attending our event and spending time with TAVO to discuss fair trade.