TAVO Blog
Walk for Freedom
Posted on

October 17th, 2017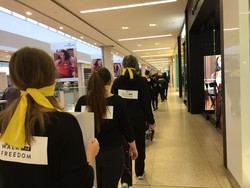 On Saturday October 14, five TAVO members braved the early morning and participated in A21's third annual Walk for Freedom. The walk took place in West Edmonton Mall from 9:00-10:00 a.m. and had about 50 participants in Edmonton alone. The walk happens at various locations all around the world and is done to raise money and awareness about modern-day slavery. This year, the walk was done with yellow bandanas worn over the mouth and marked with the names of three survivors: Eve, Amy, and Ivan. Participants also were able to download a special podcast to listen to while they walked so they could hear the stories of each of the survivors honoured in the walk.
It was an emotional, yet empowering experience. There was a real feeling of community amongst participants and it felt amazing to be a part of something that was both peaceful and powerful. At the beginning of the walk, there was a general feeling of brokenness, but as we continued to walk single file through the entire mall, a sense of hopefulness and inspiration seemed to fill each person. The bystanders all seemed shocked when they read the signs with the human trafficking statistics, and three teenage mall-goers even joined the walk with us. It's amazing to think about how such a small act of walking for an hour could have such a positive impact on the life of someone in need.
 The walk served as an excellent way for individuals to observe Anti-Slavery Day, which occurs on October 18. This day serves to remind us that slavery still exists and to inspire us all to fight against it. As with many issues, awareness is key and events such as this are one of the best ways to spread the word and take part in the fight.
 A21 is a non-profit organization that fights slavery and human trafficking -- just like TAVO! By supporting them, we are using our voices to stand up for those who have been silenced.
For more information on A21, human trafficking, donations, and how you can help, visit www.a21.org